9. Great Sermons & Bold Preaching & Preachers.
On this Page you can find Bold Preachers, Their Video's, Websites, Ministries, Sermons. You als can Find a Playlist Full off Great Sermons & Bold preaching. "For the Preaching of the Cross is to them that Perish Foolishness; but unto us which are Saved it is the Power of God." 1 Corinthians 1:18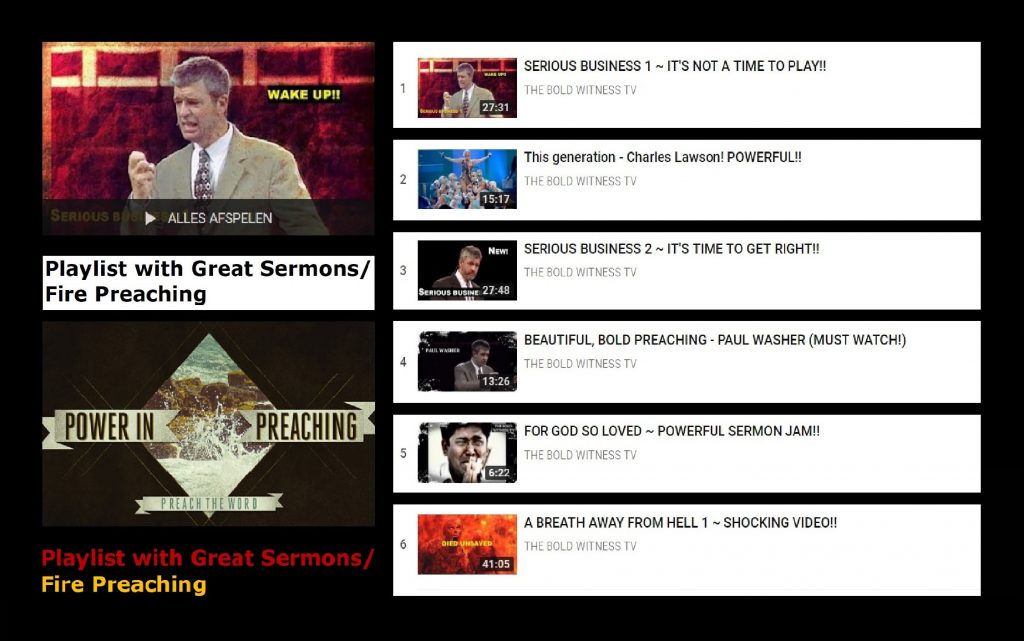 To See this Page
Click Below
A Couple Video's you Can Find on this Page
10. Do you Know the Power of Prayer?
On this page you can Download a List of Prayers that can help you in your Prayer Life! & you can Also Listen to some Powerfull Prayers, & Deliverance Sessions. That can help you get Free from Demons, Addictions, Or any other Sins, By the Power of the Holy Spirit! "And ye shall know the truth, and the truth shall make you free. They answered him, We be Abraham's seed, and were never in bondage to any man: how sayest thou, Ye shall be made free? Jesus answered them, Verily, verily, I say unto you, Whosoever committeth sin is the servant of sin. And the servant abideth not in the house for ever: but the Son abideth ever. If the Son therefore shall make you free, ye shall be free indeed." John 8:32-36
To See this Page
Click Below
A Couple Video's you Can Find on this Page
11. Deliverance Ministries
On this Page you can Find Deliverance Ministries. Listen to some Powerfull Prayers, & Deliverance Sessions. That can help you get Free from Demons, Addictions, Or any other Sins, By the Power of the Holy Spirit! "And ye shall know the truth, and the truth shall make you free. They answered him, We be Abraham's seed, and were never in bondage to any man: how sayest thou, Ye shall be made free? Jesus answered them, Verily, verily, I say unto you, Whosoever committeth sin is the servant of sin. And the servant abideth not in the house for ever: but the Son abideth ever. If the Son therefore shall make you free, ye shall be free indeed." John 8:32-36
To See this Page
Click Below
A Couple Video's you Can Find on this Page