On this Page you can Find some amazing Christian Help Organizations.

"What doth it profit, my brethren, though a man say he hath faith, and have not works? can faith save him? If a brother or sister be naked, and destitute of daily food, And one of you say unto them, Depart in peace, be ye warmed and filled; notwithstanding ye give them not those things which are needful to the body; what doth it profit? Even so faith, if it hath not works, is dead" James 2:14-17
1. Bless an Orphan Ministry
Bless An Ophan, Inc. is a non-profit International organization founded by Marshall and Karissa Washburn with the purpose to find, rescue and transform the lives of orphaned, abandoned, abused and trafficked children. The mission of the organization focuses on projects that provide life-changing results. The growing number of orphans, abandoned and abused children, children kidnapped and sold in to human trafficking and children dying of starvation is overwhelming global crisis. However, we believe that when we focus our efforts on sustainable, life-changing methods, we have the ability to truly impact lives and reduce this growing crisis. We know that we cannot save them all, but shouldn't we at least try? Even one life saved is worth it all. Marshall and Karissa are parents to a large international adopted family. They understand the needs, complexities, and challenges that parents and adopted children face, which makes them passionate about helping families and children whose lives have been forever changed through adoption. Their mission to is go wherever God leads and help whoever He brings in to their path.
For links

To their
Website, Video's,
YouTube channel:
A Couple of their Video's
2. Samaritans purse Ministry
The story of the Good Samaritan (Luke 10:30-37) gives a clear picture of God's desire for us to help those in desperate need wherever we find them. After describing how the Samaritan rescued a hurting man whom others had passed by, Jesus told His hearers, "Go and do likewise." For over 40 years, Samaritan's Purse has done our utmost to follow Christ's command by going to the aid of the world's poor, sick, and suffering. We are an effective means of reaching hurting people in countries around the world with food, medicine, and other assistance in the Name of Jesus Christ. This, in turn, earns us a hearing for the Gospel, the Good News of eternal life through Jesus Christ. As our teams work in crisis areas of the world, people often ask, "Why did you come?" The answer is always the same: "We have come to help you in the Name of the Lord Jesus Christ." Our ministry is all about Jesus—first, last, and always. As the Apostle Paul said, "For we do not preach ourselves, but Jesus Christ as Lord, and ourselves as your servants for Jesus' sake" (2 Corinthians 4:5, NIV). Mission Statement Samaritan's Purse is a nondenominational evangelical Christian organization providing spiritual and physical aid to hurting people around the world. Since 1970, Samaritan's Purse has helped meet needs of people who are victims of war, poverty, natural disasters, disease, and famine with the purpose of sharing God's love through His Son, Jesus Christ. The organization serves the Church worldwide to promote the Gospel of the Lord Jesus Christ.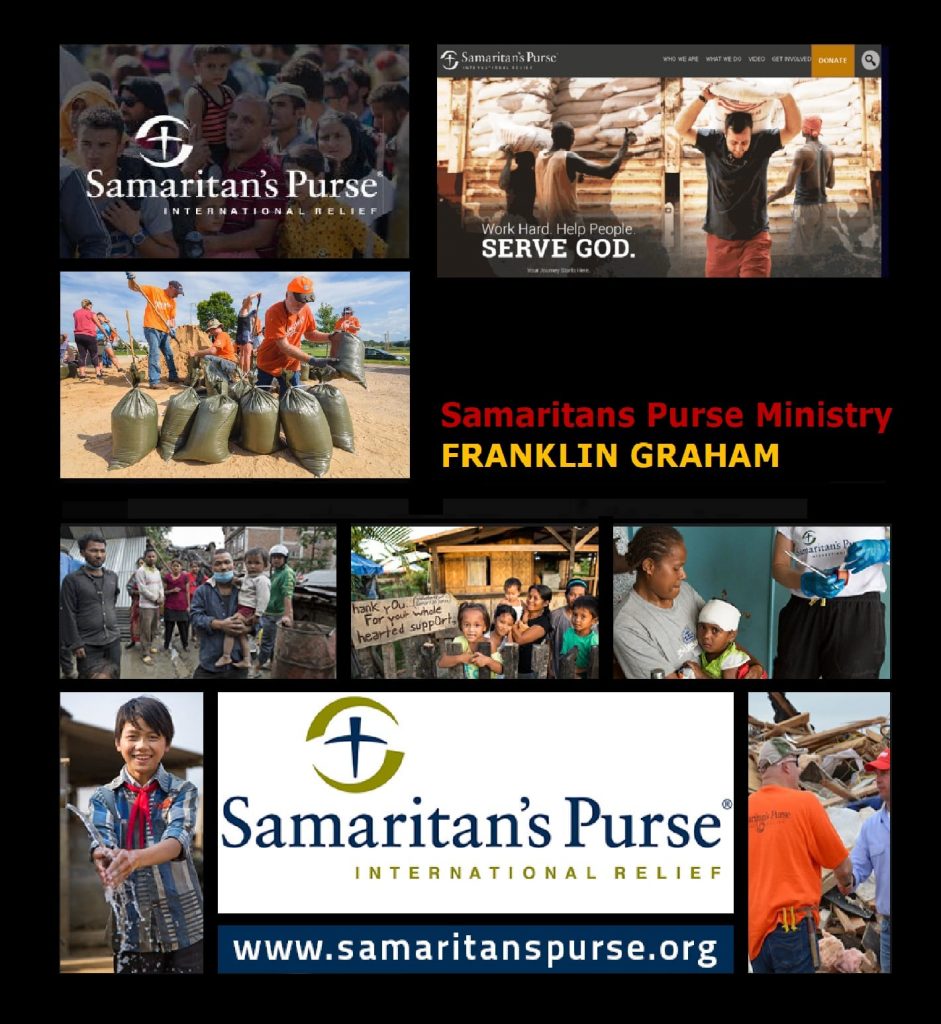 For links

To their
Website, Video's,
YouTube channel:
A Couple of their Video's
Asia Harvest is an non-denominational Christian ministry working in various countries throughout Asia to see effective churches planted among unreached people groups. We work alongside Asian church leaders, helping and equipping them to focus on reaching the lost. The countries we focus on include China, India, Nepal, Vietnam, Indonesia, Laos, Myanmar (Burma), Bangladesh, Bhutan and Cambodia. Within these 10 countries are approximately 2,000 unreached tribes and ethnic groups. Asia Harvest is a 'faith' ministry supported by God's people. We are registered as a 501(c)(3) tax-deductible non-profit organization in the United States. We also have offices or representatives in Australia, New Zealand, the United Kingdom, Germany and Malaysia.
For links

To their
Website, Video's,
YouTube channel:
A Couple of their Video's
4. The Voice of the Martyrs Ministry
The Voice of the Martyrs is a nonprofit, interdenominational Christian missions organization dedicated to serving our persecuted family worldwide through practical and spiritual assistance and leading other members of the body of Christ into fellowship with them. VOM was founded in 1967 by Pastor Richard Wurmbrand, who was imprisoned for 14 years in Communist Romania for his faith in Christ; his wife, Sabina, was imprisoned for three years. In 1965 they were ransomed out of Romania, and soon thereafter they established the global network of missions of which VOM is a part. The Wurmbrands based these missions on Hebrews

13:3, which instructs us to "Remember the prisoners as if chained with them—those who are mistreated—since you yourselves are in the body also."
For links

To their
Website, Video's,
YouTube channel:
A Couple of their Video's
For almost 60 years Open Doors has worked in the world's most oppressive and restrictive countries, strengthening Christians to stand strong in the face of persecution and equipping them to shine Christ's light in these places. When Christians are strengthened in the Lord, they begin to demonstrate God's forgiveness and reach out in love, even to their oppressors. One of the greatest challenges to Christians living under oppression is isolation – from God's word and from the body of Christ.

1 Corinthians 12:26 says "If one member suffers, all suffer together; if one member is honored, all rejoice together."

Open Doors empowers persecuted Christians by supplying Bibles and Christian literature, training Christian leaders, facilitating social/economic projects and uniting believers in the West in prayer for Christians, who are the most persecuted religious group in the world and are oppressed in at least 60 countries.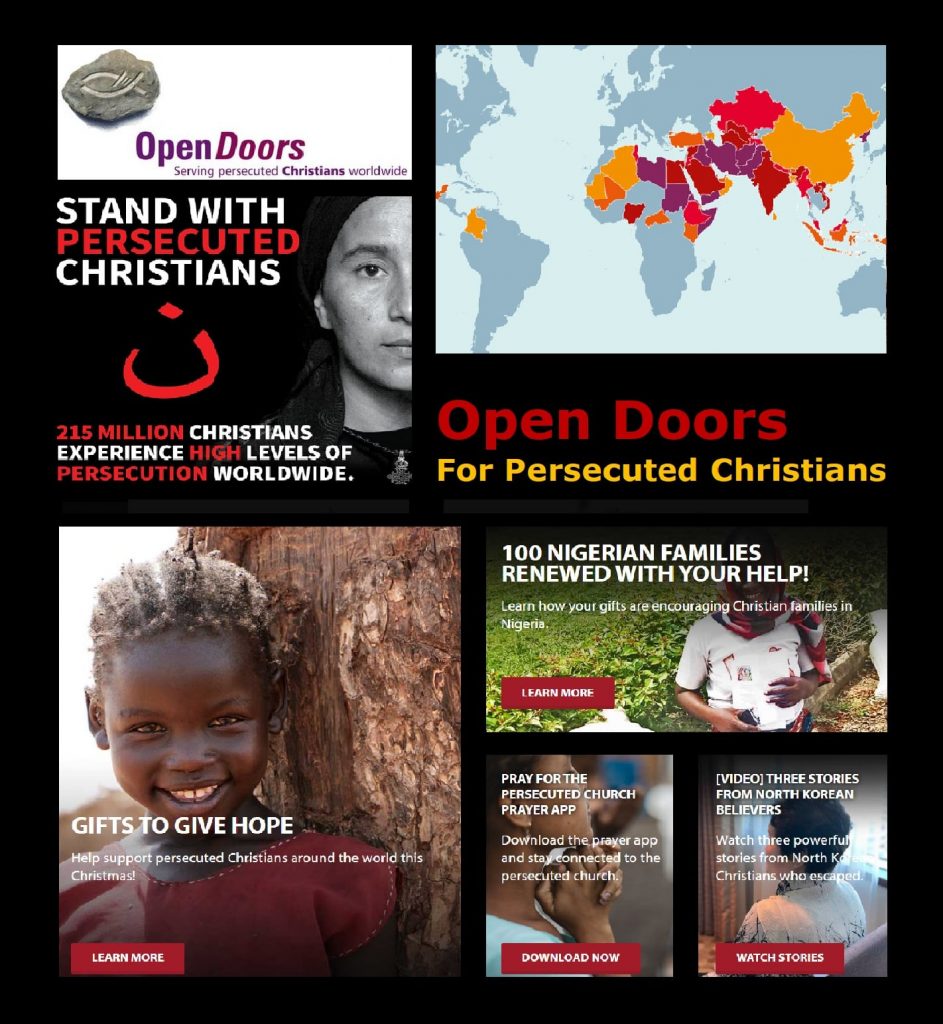 For links

To their
Website, Video's,
YouTube channel:
A Couple of their Video's